Our History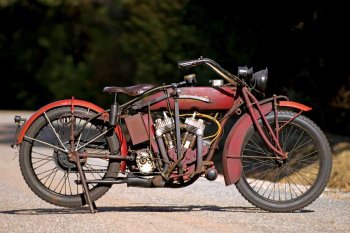 It All Started With the Swap of a Motorcycle
(Excerpted from Finger Lakes Times, July 13, 2013 "Business of the Week" article by Mike Hibbard)
In 1913, 17-year-old Achilles Michael Anania — he came to America from Italy in 1908 — started working for James Carney, owner of Carney Bottling Works on South Main Street. Four years later, Anania served as an Army motorcycle dispatch rider in France during World War I. When the war ended in 1918, Anania returned to the U.S. ... but had no way to get home to Geneva. He took care of that by using his Army pay and buying the motorcycle.
Anania went back to work for Carney, and the owner saw a young man with a sharp business acumen who was dedicated to his job. At the age of 22, Anania bought the business from Carney in exchange for his only asset: the motorcycle. Carney also let Anania keep the horse that pulled the distribution wagon.
The story remains a favorite of Anania's son, Bob, now the President of Geneva Club Beverage. "He was offered the business by Carney, and [Dad] said, 'I don't have any money,'" Bob relayed. "Carney asked what he owned, and he said, 'I have the motorcycle,' so he traded the motorcycle for the business. "He was fond of saying that he told Carney 'I'm keeping the horse' because they used to deliver with horses in those days ... my Dad said the horse died but the business kept going."
It also was in 1918 that Achilles, referred to by many as Mike, changed the name to Geneva Club Bottling Works. Although the name has changed several times due to different affiliations with soft drink companies, it became Geneva Club Beverage for good in 1955. The company bottled its own products on Exchange Street in Geneva until 1988, mixing carbonated water with syrup to produce soft drinks such as Pepsi, Mountain Dew, Hires Root Beer, Orange Crush and 7 Up. The bottling is now done by Clinton's Ditch, a cooperative product in facility near Syracuse that is owned by all independent Pepsi bottlers in New York, including the Ananias.
In 1927, Mike Anania married Rachael "Carrie" Legott. They had three sons: Achilles Michael Jr., Robert and Ronald. All three went to college before returning to help run the family business, which survived the Great Depression and other hard economic times.
"The most difficult time was during World War II, because sugar was rationed," Bob recalled. "We couldn't get sugar. We couldn't get gas. We couldn't get tires. It was a struggle, but we managed."
"It was a lot of hard work," Bob said. "It was all refillable glass bottles back then, and they were all full-depth wooden cases weighing about 55 pounds each. Sugar was in 100-pound bags ... you had to lift the cases all the time and you had to unload sugar by the trailer load."
"It wasn't fun," Ron added with a chuckle.
Bob said the first drinks offered by his father were Whistle (an orange soda), King Cola, root beer, sarsaparilla and lemon-lime. In 1936, Mike Anania was offered a Pepsi franchise that he dropped shortly thereafter but picked up again a few years later.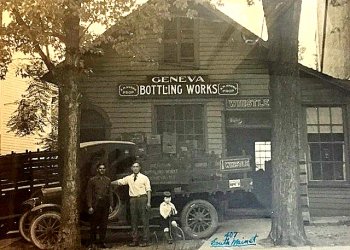 Our original location on South Main Street, Geneva.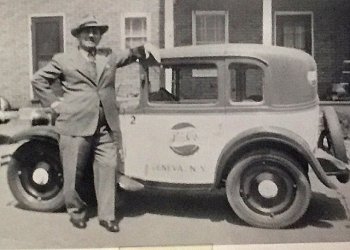 Mike Anania, Sr., during the 1940's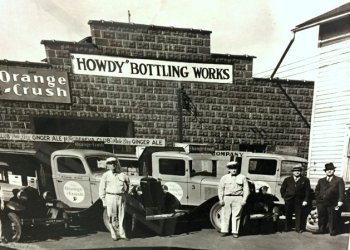 Our Second Location on Exchange Street
Mike Jr., Bob and Ron worked at the facility when they were kids. All three returned from college and the service and began to work full time in the business. Mike Sr. retired from the business in 1964. Mike Jr. became President; Bob, Vice President and Production Manager; and Ron, Treasurer and Sales Manager. Mike Sr. and Mike Jr. passed away in 1981. Bob became President and Ron Vice President. In the 1990's Ron's daughter Lynn and Bob's son Rob joined the business. Rob currently serves as Executive General Manager of the company, while Lynn serves as Manager of Public and Employee Relations.
In the late 1960's, the company came out with a "Geneva Club Beverage" brand which featured many different flavors such as Birch Beer, Hi-Lo Punch and Cherry-ola. The brand lasted about 10 years, before huge supermarkets and big-box stores began developing their own private label beverage lines.
Today, Geneva Club Beverage carries over 300 different brand and package sizes. The company employs 54 local people and uses over 40 sales, delivery and service vehicles to carry on its work.
After close to 100 years in the soft drink business, the Ananias said they are proud of both the business and its contributions to the community. Geneva Club Beverage is a longtime sponsor of area sports teams, charities and events that help nonprofit organizations.
"We hope people think about that when they reach for something to drink," Rob said with a smile. "It seems like the best businesses are still local and we are happy to support the community."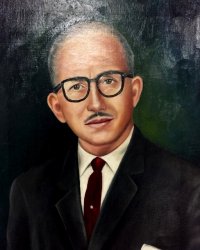 History of Geneva Club Beverage Co. Inc
1913 — Achilles Michael "Hobart" Anania begins working for Carney's Bottling Works on South Main Street in Geneva.
1918 — Mike Anania buys business from James Carney and changes name to Geneva Bottling Works, a bottler and manufacturer of carbonated beverages.
1923 — Name changes to Geneva Club Beverage Bottling Works and later to Howdy Bottling Works with addition of Howdy (orange) soda. Business moves to Exchange Street.
1937 — Howdy Bottling Works adds Orange Crush, Ginger Ale, Moxie and Mike's Drink; named changed in 1938 to Geneva Club Beverages and Geneva Orange Crush Bottling Co. after becoming Orange Crush franchisee.
1939 — Name changed to Geneva Club Beverage Co. after becoming Pepsi-Cola franchisee.
1945-55 — Operates as Pepsi-Cola Bottling Co.
1955 — Name changed to Geneva Club Beverage Co. Inc.; moves to current location at 1 Pepsi Lane